Do you face issues in finding your Windows 10 startup folder? You no longer will after you read this complete guide below.
It's annoying that you just can't find your startup folder in Windows 10 so let me tell you, you are not alone. It's been the case with many Windows 10 users, the startup folder hasn't been the same since Windows 7, so now it get little confusing when people just randomly ask you if you know where your startup folder is, your instant thought would be, it's on the start menu but No that's when you are even more confused about its location. let's get you started.
EASY WAY OUT
You think it is, but actually, it's not. you might just believe that getting hold of the startup folder is few clicks away when you recover your windows wits the quickest way to relocate your startup folder in windows 10 would be to click on the start button and type startup. That works right?
Even though it does, it directly takes you to the system level startup folder in windows 10 which applies to all users system. It doesn't apply to the logged in user's startup folder.
There are several ways to get to start with the startup menu but it would be lengthy for any quick use, there's nothing to worry because for some of the best user guide we are going to unveil some of the best shortcut ways for startup folder on windows 10, check it out.
THE SHELL COMMAND
So this one of the shortcuts that many Windows 10 users have been using and it works great, even though it possible to use explorer, control panel or start menu to access the key features you look for, a shortcut can be the best option and it comes in very handy.
It might be a little surprising to you but in the windows, 10 architecture is some of the best features hidden, there is an entire host of the special shortcut which is known as a shell command.
Eager to know how to use it?
Here's how, you just need to press (windows)+R which will access the run dialog box water which you have type the word shell followed by a colon(:) and the command, something like this===> shell:command
Just make sure you keep no spaces in between the two words and colon because it essentially has to be one word. Fortunately this technique to access your application is easy and short and most of all everybody remembers it quite easily.
So just keep this shortcut on your priority list as I show you some of the other shortcuts further.
How to access logged-in user's startup folder
Its pretty similar to shell:command, but here you have to press (windows)+R then type shell:startup in the open text box that you get, again do not leave any space between your writing the press enter, it possibly have to look some like this-this, take a look
How to access the all user startup folder
It's more or less the same, just press the (window)+R then type shell:common startup the text box after which click enter, let me show you how.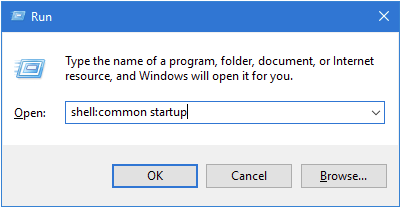 How to add new applications to your startup folder
Now let's get to some tricky part, finding those shell command is east yet what if you want to add an application to our startup menu, how would you do that. You might find a way to do that after exploring but you will end up wasting hours in getting to the end of it.
So here's something to save your precious time. To add logged-in user folder and all user startup folder is clear so here's how you can easily add new application shortcut in your windows 10 startup folder by your own choice.
You have to use the shell commands to get the access to application folder and the startup folder after which just drag and drop from your application folder to the startup folder to add the application of your choice something similar to the image given here, and your windows should create the shortcut for your chosen application automatically.
So now that you are aware of three of these easy shell command hacks for Windows 10, you should be aware of one more simple thing that there are actually types of startup folders in there.
TWO TYPES OF STARTUP FOLDER
It may sound a little complicated to you but let me make it simple, the first one is at the system level and it applies to the all user account, the second one is unique to the current user account.
These two folders go hand in hand and work together depending on the user and the applications to be launch when the user logs in.
Let me give you an example to crystal things out, there might be two users in one system with two different names, and the shortcut for Microsoft edge is placed in the all users startup folder for user1 while the shortcut for the notepad is also located in the startup folder for user2.
So when user1 logs into the system, both the application Microsoft edge and notepad will launch automatically but when user2 logs in the application will only launch Microsoft edge.
This distinction is done by windows itself and it may seem trivial even though it is important to understand that while troubleshooting both the folders are configured properly.
KNOW THE LAUNCH ORDER IN WINDOWS 10
You should know few things about the items that you put in your all user or the current user account, it won't launch immediately just after you log in to your windows 10, windows will first prioritize its necessary system processes and the items in the task manager and then get into the launch for your startup folders.
Most of the time, these initial steps just gets done before even you know it but if you have many first party and third party service and applications to launch when you reboot, it might take a little longer to finally see your startup folder items appear on your desktop screen.
Wrap up
Do now that you have reached to the bottom of this informative article, make sure to follow all the necessary steps to get the shortcut to the startup folder, and also remember to be patient when you work your ways through windows 10 startup folders to get to the conclusion you want.