Err_Connection_Reset is an error you may encounter while trying to access a website in Google Chrome.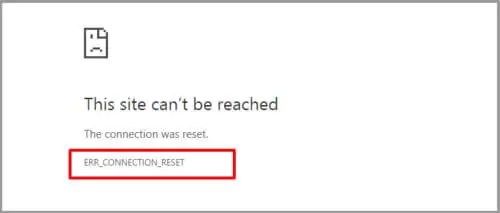 In this post, you will learn how to fix this error in simple methods. 
What Does Err_Connection_Reset Mean?
An Err_Connection_Reset error is one of the most common problems encountered by Google Chrome. The message displayed depends on your activity. 
Here are messages that could come up as a result of the Err_Connection_Reset error:
ERR_INTERNET_DISCONNECTED

Aw! Snap

Your connection was interrupted 

This site can't be reached the connection was reset

Failed to Resolve Host 
All these are variations of the error and they mean the same thing. There are a number of reasons as to why this error occurs.
Why You've Encountered the Err_Connection_Reset Error
When you encounter this error, your browser will reset TCP/IP connection when you request it to connect to the network. Some of the most common reasons for this include:
Corrupt or Outdated Network Driver
You might have a faulty network driver that could be affecting TCP/IP packet as it assembles it. After receiving a corrupt packet, the checksum routines request a new packet from the service. When it arrives, your network drivers assemble it improperly again.
The server keeps sending the TCP/IP packet as the checksum routines continue sending the request.
When they reach their cap eventually, they stop sending the request to the server. It's at that point that your browser displays the connection error.
Network Router Problems
It is also possible to encounter the err connection reset chrome error because of a faulty network router. Network router problems can interfere with the connection and corrupt the TCP/IP packets.
Your Google Chrome browser will try to re-establish the connection a few times, but you will receive the error again when it reaches the upper limit to retry the connection. 
Disabled Internet Connection to Your PC
This might sound simple but you won't believe many times people somehow disable internet connection to their PCs without knowing. As a result, the error keeps coming up as they try to connect to the internet.
Your Firewall/ISP Has Restricted Access to a Certain Website
If your ISP has blocked a certain website and you try to access it, you will receive the Err_Connection_Reset error. You may also see some messages like "your connection was interrupted."
The error may also come up when your firewall restricts access to specific sites that you are trying to access. Many people have reported seeing 'the connection was reset' when trying to access YouTube. 
This is because the ISP has blocked YouTube or certain videos on the website. Your browser will throw this error when you try to watch restricted content.
Your VPN App Could Be the Cause of the Error
Sometimes, the cause of the Err_Connection_Reset error could be your VPN. This is because VPN apps make your internet traffic appear as though it is coming from a server located somewhere else. It hides your real geographical location and IP address. 
VPN apps usually take full control of your TCP/IP settings. Therefore, if your VPN has issues with configuration, you could easily encounter the Err_Connection_Reset error.
How to Fix Err_Connection_Reset Error
This has been one of the most frustrating errors experienced by Google Chrome users, and a good enough reason to start using other browsers.
But you don't have to change to another browser. We can help you fix this error in Google Chrome. The methods explained below will help you to fix the error easily. 
Change Your Proxy Settings
The first step you should take is to change your proxy settings. This is the simplest yet the most effective method as it solves the err_connection_reset for 99% of Google Chrome users.
But before you change proxy settings, keep in mind that Google Chrome doesn't have a proxy/sock feature. It uses Windows/Mac default proxy settings. Changes made on proxy settings will automatically apply to your Chrome browser. 
Also, keep in mind that this doesn't work for Firefox. And the reason is very simple-Mozilla browser has a dedicated proxy/sock handler. It doesn't rely on Windows proxy settings. 
Follow these steps to change your proxy settings:
Go to 

Control Panel

Click on 

Internet Option

Click on the 

Connections

 tab and then 

LAN settings

 

Now uncheck all options on the final page and click 

OK
This method should solve the problem for most users. If it doesn't fix the problem, try the next method. 
Reset Winsock
This solution works for most Windows users. It involves typing a command in command prompt (CMD). This resets Winsock, and resolve configuration error in the process. This method should work for most users. 
Here are the steps you need to follow:
Simultaneously press Windows and R keys on your keyboard to access the Run dialogue box 

You can also find Run by going to 

Start

 and then select 

All Programs

Now enter "cmd.exe" in the dialogue box 

Hit 

Enter

 and wait 

For Windows 10 users, type CMD into the search app and select command prompt 

Once the command prompt is open, type the command prompt below and press Enter 
                 netsh winsock reset catalog
Restart your PC and open your Google Chrome browser to see if the problem has disappeared
Hopefully, this method has resolved the problem with the err_connection_reset. If not, you may want to try out the method below.
Disable Your Antivirus Program or Firewall App
Your antivirus or firewall could be the cause of the err_connection_reset. If this is the case, it is best to leave it that way. You definitely don't want to visit a malicious website. 
However, if you think it's a false alarm, you could disable your antivirus or firewall app and access the website again.
You could also have blocked the Google Chrome browser or a certain website in your Windows firewall settings. Make sure you go to settings in your firewall app to check the list of blocked websites or apps.
Also, disable your antivirus if you trust the website you intend to visit. But we don't recommend running your laptop or desktop without an antivirus program. This could put your computer at risk of spying and other external threats.
Fix Windows Registry
Connection errors such as "Your connection was interrupted" are often caused by a corrupt Windows registry. In this case, you can solve the problem by fixing your Windows registry. 
Follow these steps to do that:
Use this link to download CCleaner 

Install the software on your PC

Scan your PC using the cleaner
The software will fix all registry problems as it scans your PC.
FAQ
How Do I Reset My Internet Connection?
Disconnect the power cord from the back of the modem. Check if all the lights on the modem are off to ensure you have disconnected the correct cord.

Plug back the power cord into the modem

Wait a few seconds for the internet light to turn green

Now try to connect to the internet.
Is It OK to Reset Network Settings?
Yes, it is OK to reset network settings. It doesn't have any effect on your iCloud Keychain passcode listing for the website. 
However, it will reset your wifi passwords and networks, cellular settings, and VPN and APN settings that you set before.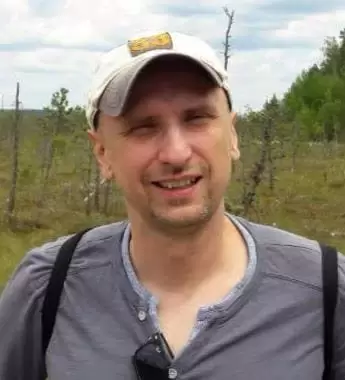 Petr is a serial tech entrepreneur and the CEO of Apro Software, a machine learning company. Whenever he's not blogging about technology for itechgyan.com or softwarebattle.com, Petr enjoys playing sports and going to the movies. He's also deeply interested about mediation, Buddhism and biohacking.