Let's face it, even though Netflix is probably one of the best streaming deals out there (especially if you're located in countries where other premium streaming services aren't available, such as Hulu, or HBO Go), some people just can't afford it. Others might figure they won't get enough usage out of it and don't want to pay a monthly subscription for something they'll only use once or twice.
Luckily there are free movie apps out there that allow you to stream movies and TV shows without paying a dime.
The problem is the number of free movie apps that claim to do the same. Which one should you choose? Which one is the best? Well, let's find out.
How Do Free Movie Streaming Apps Work?
Most free movie apps use their built-in media player to play files from various file hosting sources, such as torrent websites. They make their money by using an ad-based file hosting websites, which play an ad when a user accesses the file, giving a small percentage to the file owner.
Almost every single free iPhone or Android movie streaming app is overloaded with ads, but they usually don't interrupt your viewing experience. Most of them appear when you load the page and click on the media player.
Some of the ads might be a little sketchy — it's a legal gray zone, after all. User caution is always advised. Adblockers and script blockers are recommended but don't forget that by doing so you're effectively denying income for the owners of the service you're using.
Reviews of the Best Free Movie Apps
We will be reviewing 10 free movie apps. All of them are free and virus and bloatware free. Some other apps that claim to do the same as these infest your phone or your computer with viruses and pesky toolbars. You don't want to clean your phone every single time you watch a movie, do you?
These reviews mainly focus on user experience, library size, and stream quality, but also cover things as battery consumption, internet bandwidth and RAM usage. So, find out which of these are the best free movie apps.
        1. SHOWBOX — One of the Most Popular Free Movie Streaming Apps

Showbox's large movie library makes it one of the best free movie streaming apps for Android. You just need to install the app and you're good to go.

Clean, Good Looking Interface
Showbox has a menu bar at the top which allows you to choose whether to display movies or TV shows. Everything is very intuitive.
News Section
Showbox allows you to access the latest movie and TV related news.
Trailers
Unsure about what movie to watch? The trailer feature allows you to see trailers for every movie in their library. You don't need to go all the way to YouTube to see if a particular movie is any good. It's a welcome addition to any free movie app.
Favorites
You can bookmark your favorite movies and TV shows so you don't have to keep searching for them.
Offline Usage
You can download movies and TV shows. Access them through the Download section and you're all set, even if you don't have any data left on your plan or there's no wi-fi in the area. It's one feature you don't think about when you're choosing your free movie app, but you're certainly going to use it.
| Pros: | Cons: |
| --- | --- |
| More features than other apps | Stream quality limited to 720p |
| | |
| | |
| Content constantly updated | |
| | |
        2. TERRARIUM TV
Offering a wide range of TV shows and movies in HD, Terrarium TV is also one of the most used free movie apps. It's available for every 4.0 or higher Android Device.
Although with minimal extras (the Favorite tab is the only one it shares with Showbox), Terrarium TV also has a clean, intuitive interface. It's a great free movie app if you're not looking for any extras.
| Pros: | Cons: |
| --- | --- |
| | |
| 1080p and 720p streaming quality | High RAM usage (over 50MB) |
| Constantly updated library | |
        3. MEGABOX
Megabox is indeed a mega free movie Android app. It has a huge updated library where you'll find the latest movies and TV shows.
Great Interface
The app offers a smooth experience and has one of the best interfaces on the list. It responds very well and has great looking animations that give the feeling you're using a premium free movie app.
Content
There's a lot of information about the available movies, such as its synopsis, the IMDB ratings and the year it was released. They're all sorted in a very intuitive manner and you can browse them by genre or release date. As you will see, this is a feature that many free movie apps have.
Favorites
As most related apps, Megabox allows you to curate your favorite list. You can create your one-stop "to watch" list.
Offline Usage
If your connection is spotty and you want to watch a movie without it having to constantly buffer, you can download it and watch it when it's done. The download movies are all neatly arranged in the Downloads tab.
| Pros: | Cons: |
| --- | --- |
| Constantly updated movie library | Stream quality limited to 720p |
| | |
| Small app size (lower than 5MB) | |
        4. CINEMABOX HD
As the name suggests, Cinemabox HD is a free movie app with loads of high definition movies and TV shows for you to watch. It's available on both Android and iOS and doesn't require any sort of account. Just download it and watch.
Simple Interface
The well-organized UI makes finding movies a walk in the park. It doesn't have the same minimal look and the charm that makes some other applications feel like a premium experience, but it works. When you open the app you will find several movies sorted into their respective categories.
Alternative Sources of Streaming
You may run into some errors when using free movie apps other than Cinemabox HD related to the file source from where the movie is being played. Cinemabox HD lessens the chance of file-source related errors due to the ability of changing the streaming host.
If one host isn't working, try another. Chances are you'll be able to watch any free movie you'd like without a problem.
Children Safety
Cinemabox HD allows the user to hide adult content. You can block movies you don't want your children to see. Just lend them the phone or the tablet and don't worry  — they won't be seeing anything you don't want them to.
Offline Usage
As with most free movie apps, Cinemabox HD lets the user download his movies and TV shows so he can watch on the go.
| Pros: | Cons: |
| --- | --- |
| | |
| | |
| | |
| 1080p and 720p stream quality | |
        5. VIEWSTER
Viewster tries to connect its user base, allowing the user to read blogs besides watching movies or TV shows. This free movie streaming app is available for both Android and iOS.
The videos on its library mainly tend towards anime, but if that's not your cup of tea there's plenty of other options.
Straight to the Point Interface
Viewster doesn't really care about wowing the user. You open the app and you find the most recent videos. You can use the search bar at the top to find videos, or you can browse the menu on the left. It's quite similar to Google Play.
Channels
Viewster is a free movie app which offers the user the ability to browse channels. Channels are divided into three categories: most recent, trending, and all. This organized interface makes it convenient to get in on whatever's popular at the moment.
Blog Reading
Besides the video component, Viewster has several blogs available for its users. However, most blogs are anime related.
My Videos
Similar to a Favorite tab, My Videos lets you see the uploads of the channels you're following. There's also a history tab that lets you browse through what you've watched in the past.
| Pros: | Cons: |
| --- | --- |
| 1080p and 720p stream quality | Lack of variety on its content |
| You can change the stream quality mid video. | |
| | |
        6. POPCORN TIME
Popcorn Time is arguably the most popular free movie streaming app in the market. It is often called "the Netflix of torrents". Popcorn Time is an open source bit torrent client with its own media player.
Popcorn Time is available for Android, iOS and there's even a Windows client.
Excellent Interface
Popcorn Time's design is sleek, but simple to navigate. On the main page, you'll find the latest additions to their library and on the top of the screen, you'll find the search bar. There's also a menu button, from which you can select one of the different categories available.
Favorites
Like most free movie apps, Popcorn Time allows users to curate their favorite list.
Offline Usage
Speaking of things most free movie streaming apps tend to have, there's also the possibility to download movies and TV shows to watch at a later, internet-less, time.
| Pros: | Cons: |
| --- | --- |
| 1080p and 720p stream quality | Some movies might indicate they're available in HD when they're not |
| Constantly updated library | Uses a fair amount of RAM |
| Fast servers and fast torrents | Relies almost exclusively on torrents |
| | |
| Minimal battery consumption | |
        7. SNAGFILMS
SnagFilms is a free movie app mainly focused on documentaries and independent films. They have a library with upwards of 5,000 titles.
The app has few ads and loads of films.
Minimal Look
SnagFilms' interface is sleek and modern while remaining very functional. The main page shows featured films and relevant categories. As usual, you have your search bar at the top and your menus on the left side.
High-Quality Streaming
Most titles available can be streamed in either 1080p or 720p. However, there are a few issues that may hinder your experience.
Buffer problems are all too common at higher qualities and fast forwarding the movie may cause it to break, forcing you to reload the page and start all over again. To fast forward a movie you need to select one of the lower qualities and then revert to a higher one.
| Pros: | Cons: |
| --- | --- |
| 1080p and 720p stream quality | Problems when you stream at higher qualities |
| | Pretty heavy on the battery |
| Promotes independent films and documentaries | |
        8. TUBI TV
Tubi TV relies on upwards of 200 partners that keep their free movie app constantly updated with exclusive content.
Simple Interface
The landing page displays Tubi TV's featured content. On the upper left corner, you can find the menu button, which will let you choose the category you want to pick a movie from.
Newsfeed
Tubi TV tried to create a news section, however, they don't update it all that frequently. Points for originality, even if there's not much effort behind it.
        9. BIGSTAR MOVIES
Offering a wide range of both Hollywood and Bollywood movies, Bigstar Movies is a decent enough free movie streaming app. It's available for Android and iOS devices.
There's the possibility to become a premium user, with added functionalities, or to use it for free.
Interface
Despite offering a premium service, Bigstar Movies interface feels quite lackluster. The lack of transitions and the occasional choppiness don't entice you to try the paying service. However, it's usable.
Premium… or Free
The free version of this free movie app offers a low range of movies. If you pay 4.99$ a month you get an ad-free experience, as well as the ability to stream their entire library in HD. But if you're paying why not use a tried and true method such as Netflix?
| Pros: | Cons: |
| --- | --- |
| | Premium service is pointless when you have apps that do the same for free |
| | Basic accounts can only stream in SD |
| | |
| | |
        10. CRACKLE
Crackle is Sony Network's TV movie streaming app. Surprisingly, it's free. Obviously, it means that it comes with certain caveats.
Crackle is available for Android, iOS, and Windows.
Premium Interface
As you would expect from a name as big as Sony, Crackle's interface is very intuitive and user-friendly. Movies and TV shows are in different sections, and the main page shows you what's currently featured.
Large Library
Featuring movies from the `60s up to the current day, Crackle offers hundreds of movies and at least 40 TV shows.
Favorites
As it should, Crackle also offers you the possibility to save your favorite movies and TV shows.
Play-Pause
Crackle allows you to pause your movie on one device and resume watching it on another without missing a beat.
Background Noise
With Crackle's Always On feature, you can search for a movie while another movie plays.
| Pros: | Cons: |
| --- | --- |
| | Forces the user to register |
| | 480 maximum stream quality |
| | |
| | |
In-Depth Analysis – Performance Analysis
After getting to know every free movie app on the list, and despite having some clear favorites, let's see how they perform.
Stream Quality
As you can see from the graph, Terrarium TV and Popcorn Time are the clear winners when it comes to free movie apps streaming resolution. Both apps offer the user the ability to stream in 1080p.
Library Size
There's a five-way tie for the top spot. Almost every single one of these free movie apps has a decent enough movie library. I'd advise you to steer clear from Bigstar Movies. Remember that Viewster and Tubi TV offer exclusive content that you won't find on other platforms.
Application Size
If you're in the business of saving MB then there are three clear favorites: Movie HD, Megabox and Bigstar Movies. Each of the three free movie apps only takes around 3MB.
However, larger applications tend to have a few extras and offer a better viewing experience. It's up to you to decide if you prefer a better experience with your free movie apps, or if you prefer to save bandwidth.
Startup Time
Using a quad-core Snapdragon processor we can see that the fastest in the group is Bigstar Movies, taking around 4 seconds to boot up. On the other hand, Crackle offers the slowest experience, even if just for a second.
On average, each of the free movie apps we've looked at takes 4.5 seconds to boot up, which means that they're well optimized.
Bandwidth Usage
To test these times we placed a 1Mbps cap on bandwidth.
Bigstar Movies and Viewster load things slower than everything else when it comes to low-quality streams. It took both free movie apps 4 minutes to load a 480p movie.
At a higher quality, we should mention the horrendous performance of SnagFilms — it took 9 minutes to load up a 720p movie. The streams also buffered every 20 seconds or so and took at least a minute to resume playing.
You should ensure at the very least a speed of 3Mbps to stream high-quality content without interruptions.
Battery Usage
Showbox and Popcorn Time use the lowest amount of battery, while Movie HD and Viewster are the fastest free movie apps to drain your phone's battery.
If you don't have a charger available, keep to Showbox and Popcorn Time.
RAM Usage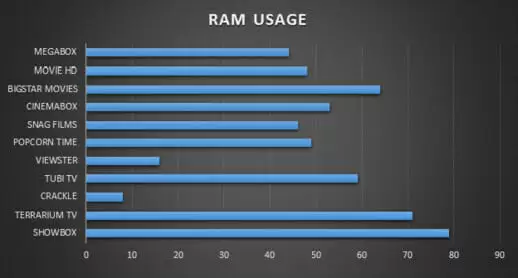 Crackle is the clear free movie app winner when it comes to RAM usage. However, every app is well within the limits of acceptable RAM usage.
Final Comparison Table
| APP | PLATFORM | BEST STREAM QUALITY | MULTI-LANGUAGE SUBTITLES | USER ACCOUNT | NO. OF MOVIES IN LIBRARY | INTERFACE | PAUSE PLAY FEATURE | CHILD SAFETY | OVERALL RATING |
| --- | --- | --- | --- | --- | --- | --- | --- | --- | --- |
| SHOWBOX | ANDROID | 720P | YES | N/A | 3000+ | 5 | N/A | N/A | 5 |
| TERRARIUM TV | ANDROID | 1080P | YES | N/A | 2000+ | 5 | N/A | N/A | 4.5 |
| CRACKLE | ANDROID IOS | 1080P | YES | YES | 1000+ | 5 | YES | N/A | 4.5 |
| TUBI TV | ANDROID IOS | 720P | YES | YES | 1000+ | 5 | YES | N/A | 4.5 |
| VIEWSTER | ANDROID IOS | 720P | NO | YES | 1000+ | 4 | N/A | N/A | 3.5 |
| POPCORN TIME | ANDROID IOS | 1080P | YES | N/A | 3000+ | 5 | N/A | N/A | 5 |
| SNAGFILMS | ANDROID  IOS | 1080P | YES | YES | 3000+ | 4 | N/A | N/A | 4 |
| CINEMA BOX | ANDROID  IOS | 720P | YES | N/A | 3000+ | 4 | N/A | YES | 5 |
| BIGSTAR MOVIES | ANDROID IOS | 480P | NO | YES | 500+ | 3 | N/A | N/A | 3 |
| MOVIE HD | ANDROID  IOS | 1080P | YES | N/A | 1000+ | 4 | N/A | N/A | 3.5 |
| MEGABOX | ANDROID | 720P | NO | N/A | 3000+ | 5 | N/A | N/A | 4 |
Conclusion
We have to admit that there's no free movie app that will dethrone Netflix. Most of these apps circumvent the law and you never know how long they will last. Despite all of that, there are a few clear winners: Showbox, Cinemabox and Popcorn Time.
If you don't want to stream but instead want to download movies then you should use Megabox.
If you're a parent and you're worried about what your child might see, then Cinemabox is the right one for you. It's the only app which allows you to control what your kids see.
What's your favorite?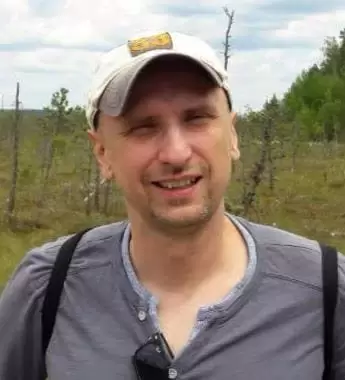 Petr is a serial tech entrepreneur and the CEO of Apro Software, a machine learning company. Whenever he's not blogging about technology for itechgyan.com or softwarebattle.com, Petr enjoys playing sports and going to the movies. He's also deeply interested about mediation, Buddhism and biohacking.